It's 4 AM, the temperature is 7 degrees Celsius, everyone is lined up ready to reach the summit.
"Be careful guys! The road is narrow and steep. You don't want to fall on that cliff to your left." The local tour guide warned us.
I tried to reach for my flashlight but I can't see anything, just total darkness. I can't feel my face, I'm already wearing three layers of clothing, and I'm cold as hell. Late last year a woman in her 50's died in Mount Pulag because of heart attack. I know I should not think of that coz I'm just scaring myself.
---
Mount Pulag is the third tallest mountain in the Philippines with an elevation of 2,922 metres above sea level. Few months ago, my family and I trekked Mt. Pulag to see the glorious sunrise and the famous sea of clouds.
There are three trails to climb the summit of Mount Pulag from Benguet province: Ambangeg (easy trail), Akiki (best trail) and Tawangan (more challenging trail with bloodsuckers leeches). We did Ambangeg trail since it's best for beginners like us.
Things to bring to Mount Pulag
medical certificate
earth pad and sleeping bag
tent
first aid kit
food and water (at least 2 liters)
fleece jacket (suited for 0-7 degrees Celsius temperature)
thermal wear
2-3 set of clothes
poncho or raincoat
waterproof jogging pants or trekking pants
hiking shoes
bonnet, scarf, and gloves
trash bag (please do not litter!)
flashlight or headlamp
sunblock
lip balm
toilet paper
chocolate bars for quick energy
 3 Terrains you will see in Ambangeg Trail
Pine Forest -From the ranger station to the foot of the mountain, you will see pine trees and vegetable farms. According to the (Department of Environment and Natural Resources) DENR staff who facilitated the short seminar,  you will see rare flowers in that mountain such as, Edelweiss. That's pretty amazing coz it usually grows in Austria and Switzerland. Come to think of it, we also have it here! Ballin'!
Mossy Forest –It's called mossy coz the trees and rocks are covered with moss. Some parts are muddy and slippery so watch your steps carefully. There's also a natural spring water where you can drink. Not advisable for people with a sensitive stomach. But if you need to drink it, boil it first when you reach the campsite just to be safe.
Grass Land –This will be your temporary home, the campsite. From here, can set up your tents and cook dinner. It's advisable to spend the night here then wake up at 3 AM to reach the summit. There's a toilet room that's few steps away from the camp. No water, shower or toilet bowl, just a hole for you to release that shit. =p
The Amazeballs Mt. Pulag experience
They said the best season to climb Mt. Pulag is from November to early March. We went there last January. The weather was perfect. From the campsite, it took us 2 hours to reach the summit. We did a lot of resting of course. The oxygen gets thinner as we get closer to the top, so it's kinda exhausting even if I workout a lot.
There is no enough words to express how I felt when I saw the sun rising from the sea of clouds. It was so damn big and beautiful. You know the scene they always show in the movies when a person dies and about to go to heaven? That near-death experience where the sky opens up for you as if the angels are ready to pick you up? That's exactly similar to what I felt when I saw the sun rising few kilometers away from me. Everyone was in awe; we can't believe what we're seeing. I looked around and felt a lot of positive energy from the trekkers.
All the pain and difficulties we encountered along the way, they were all gone. Everything was worth it. We had a blast and we were all happy! Thank you God for the beauty of nature!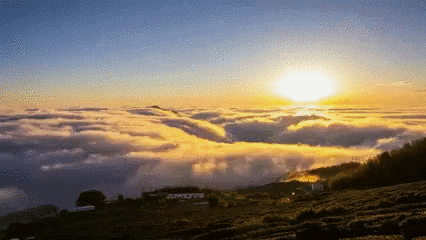 "Keep close to Nature's heart…and break clear away, once in awhile, and climb a mountain or spend a week in the woods. Wash your spirit clean." (John Muir)